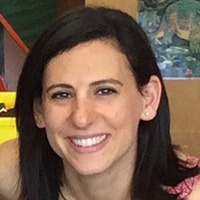 Joanne Lewis
BAppSci(OT)
Joanne is an energetic and encouraging occupational therapist. She always incorporates the child's interests and fun activities to help the child achieve their individualised goals.
Joanne graduated from the University of Sydney in 2005. She has experience in the Community sector, working one on one, as a team leader and a Coordinator of a Disability Respite Program. She has worked with children and adults that have a range of care needs, including Autism Spectrum Disorder, Downs Syndrome, Cerebral Palsy, Attention Deficit Disorder, Developmental Delays, as well as learning and behavioural difficulties.
Joanne is trained in a guide to using Clinical observations, A Sensory Processing Approach to Challenges Associated with Autism, ADHD, Learning and Behavioural issues, Lindamood Bell- Visualising and Verbalising, The DIR Floortime Model, A Positive Approach to Challenging Behaviour, Child Protection Training and Positive Behaviour Support (Autism Association of NSW).
Joanne enjoys working collaboratively with teachers, parents and other health professionals to help maximise therapy outcomes. She is dedicated to improving the child's overall functioning in all of their environments.
View All Team