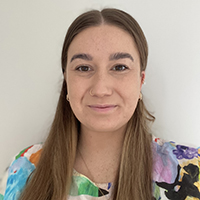 Rhianna Wynters
BPsych (Hons) MPsych (Clinical) MAPS
Rhianna completed her undergraduate and postgraduate studies at the University of Wollongong. She is an endorsed Clinical Psychologist (APHRA), a board-approved supervisor through the Psychology Board of Australia, and a member of the APS Clinical College of Psychologists.
Rhianna works with children, adolescents and their families. She is passionate about creating an environment where people feel safe and comfortable being their authentic selves by providing gender-affirming and neuro-affirming care.
Rhianna provides comprehensive assessments for learning difficulties, behaviour, emotion dysregulation, anxiety and mood disorders, and attention difficulties. She provides diagnostic assessments for Autism Spectrum Disorder, ADHD, intellectual disability, and specific learning disorders (e.g. dyslexia) using standardised psychometric tools.
Rhianna utilises evidence-based treatment approaches, including Cognitive Behavioural Therapy (CBT), Acceptance and Commitment Therapy (ACT) and Dialectical Behaviour Therapy (DBT). She values a collaborative approach working together with the young people and the people that support them, such as family, teachers and relevant professionals.
Rhianna has worked across private practice, public and non-government organisation settings in roles supporting young people's development and mental health. In addition to her Developmental Paediatrics role, Rhianna works for a NSW Health diagnostic assessment service focussed on neurodevelopmental disorders.
View All Team