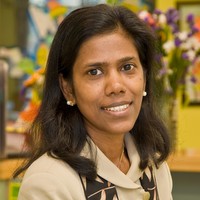 Professor Valsamma Eapen
MBBS., FRCPsych., FRANZCP., PhD
Professor Eapen is Chair of Infant, Child and Adolescent Psychiatry at UNSW Sydney, Head of the Academic Unit of Child Psychiatry South West Sydney (AUCS), and Director of BestSTART South West Sydney child health unit. She started her academic career at University College London after completing her graduate training in India and postgraduate training in Child Psychiatry through the Great Ormond Street Hospital Training Scheme, London, and PhD research at the National Hospital for Neurology & Neurosurgery, Queen Square, University of London.
She has over 25 years clinical and research experience and her interests centre on issues of early development and neurodevelopmental disorders including Tourette Syndrome and autism. She has authored around 300 scientific publications. She is a member of several international consortiums including Obsessive Compulsive Foundation Genetics Collaborative, Homozygosity Mapping Collaborative for Autism and Psychiatric Genomics Consortium. She is part of several collaborative grants with over $30 million in funding including from National Health and Medical Research Council (NHMRC), Australian Research Council (ARC), and Co-operative Research Centre for autism where she is a Program Director. She leads the Clinical Academic Group on "Early Life Determinants of Health (ELDoH)" under the Sydney Partnership for Health Education Research and Enterprise (SPHERE), an NHMRC accredited Advanced Health Research and Translation Centre (AHRTC).
View All Team
Note: Professor Eapen consults at Developmental Paediatrics on a limited basis, approximately once per month. Her consultations are available on a consultative basis in order to provide advice and a management plan to the client's usual doctor, and as such, are appropriate as single consultations, without ongoing follow-up from Professor Eapen who only attends our service infrequently.
For many children or adolescents, this may mean they are better suited being referred to an alternate Child and Adolescent Psychiatrist. For those wishing to see Professor Eapen at Developmental Paediatrics, involvement from another Paediatrician or Psychiatrist whose care the child/adolescent is under and who will be providing continued management of the condition is required. Due to her other commitments, unfortunately Professor Eapen is unable to provide ongoing advice, prescriptions, or further consultations to families except in exceptional circumstances. She is, however, able to communicate with the usual Paediatrician or Psychiatrist if further advice is sought.